The latest in Solimar innovations addresses concerns from industries that require an extra level of safety.
Assure your products of zero contamination with the new metal detectable fluidizer disks. These unique fluidizes are designed for the dairy, pharmaceutical and food related industries.Standard 4-inch diameter and Mini two-inch diameter for use in bins, hoppers and silos or in pneumatic lines with tight curvature.
Solimar disks enjoy a long history of structural integrity – they are guaranteed not to tear. But when safety is paramount to your product, this is your only choice when zero contamination is a must.
Enjoy all the same benefits of Solimar's superior aeration including uniform flow and discharge of dry bulk materials through aeration and hopper wall vibration. Can be combined with control systems for automated aeration during unloading (see below).
Note: Due to the impregnated ferrous oxide, the Metal Detectable Disk is only available in grey.
Why Solimar Silo Fluidizers work where others have failed:
Aeration
Loosens up the product allowing it to flow easier. Minimum back pressure puts air energy where it is need the most – in the silo.
Directional Air Flow
The Fluidizer disk forces air to move along the bin wall freeing up product and assuring good cleanout.
Gentle Vibration
Keeps the product flowing without allowing it to compact or plug.
No Airline Plugging
Disk seals tightly against the silo wall and prevents airline plugging. Robust Design. The disk will not tear, pick up moisture & is unaffected by temperatures up to 350 F (170 C).
Material Compatible
Available in FDA approved silicone rubber in blue and white, FDA approved EPDM rubber in black or white, also Orange High Temp rubber, and now FDA approved grey Metal Detectable.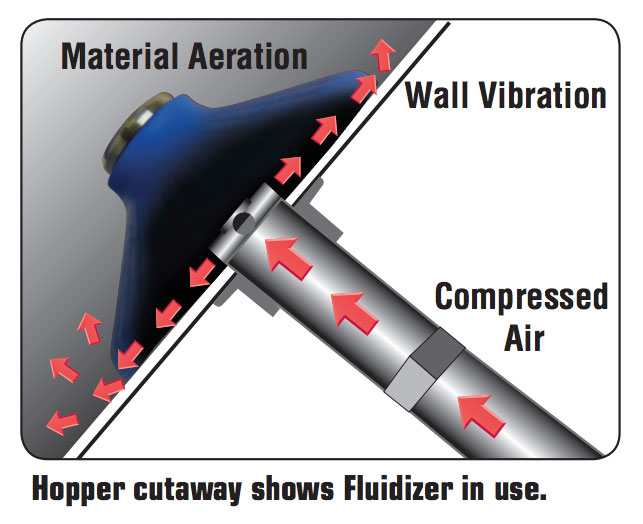 Silo Parts Catalog (PDF)
Silo Parts Flip Book
Questions about our Metal Detectable Silo Fluidizer?
Please use our free and convenient Application Questionnaire to determine if we can solve your material flow problem. Feel free to call a Solimar Pneumatics representative to answer any of your questions at 1-800-233-7109. Our team of qualified, professional advisors are here for you to help you through the entire process – Concept to Completion.
Questionnaire
Contact US